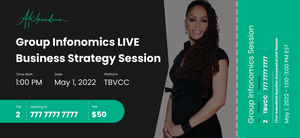 ONLY 5 AVAILABLE. As a Tier 2 Guest, you can submit a question that will be answered LIVE Sunday May 1st during the Group Infonomics Zoom Session.
You MAY be called upon LIVE to elaborate on your question or to provide input. 
YOU WILL BE PROMPTED TO COMPLETE YOUR QUESTIONNAIRE IMMEDIATELY AFTER PAYMENT.
Your questionnaire form must be submitted by Friday April 27th or your question  will not be answered in the LIVE Session. Your answer will be emailed to you after the form is submitted. 
Refunds are not available after April 27th. This session will be recorded and available for later viewing the replay link will be emailed to all ticket holders.
Once your question is submitted, NO REFUNDS.
NO REFUNDS for NO SHOWS.