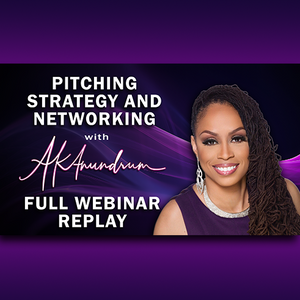 Learn how to pitch your business in 15 SECONDS OR LESS! Fact: The majority of Business Owners and Entrepreneurs DO NOT KNOW HOW TO NETWORK CORRECTLY OR EFFECTIVELY. The most common mistake is not having a SUCCINCT BUSINESS PITCH. 

It's well known that everyone serious Business Owner/Entrepreneur needs to master an Elevator Pitch, no longer than 1-2 min. You're spending TIME and MONEY to get into the right rooms and event spaces - but you're wasting your efforts with long winded and confusing Business pitches that ruin YOUR ONLY CHANCE TO MAKE A FIRST IMPRESSION. 
In this Webinar replay you'll learn how to:
Correctly introduce your Business to anyone in 15 seconds or less

Create a Digital Product for any Network opportunity
Identify and increase your businesses Value Proposition
Ways to Increase Online Engagement 
PURCHASE INCLUDES 20% DISCOUNT FOR ALL OF MY LICENSED COURSES THAT YOU CAN OWN, EDIT AND SALE AS YOUR OWN AND KEEP 100% OF THE PROFITS FOREVER!
This is a 2 Hour 30 Minute Webinar.