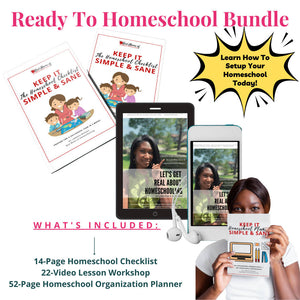 New to Homeschooling? This amazing bundle collection is exactly what you need to start your homeschooling journey in an organized way and with confidence!
Okay, so here's what you get...
1. Keep It Simple & Sane Homeschool 14-Page Checklist is a quick and straight forward step-by-step guide to assist you in setting up your homeschool. Inspired by the Keep It Simple & Sane Homeschool Planner.
2. Keep It Sane & Simple Homeschool Planner  
3. Build Your Homeschool in 4 Weeks Workshop takes you step-by-step through the entire process of setting up your homeschool in an organized way. This on-demand training comes with email support for any questions you may have.
What You Will Learn From This Workshop:
- Homeschooling Overview
- Name Your Homeschool
- Create Your Mission Statement
- Create Your School Year Goal
- Homeschool Compliance
- Teacher & Student Identification
- Scheduling Overview
- Annual Calendar
- Monthly Calendar
- Daily & Weekly Routine
- Child's Grade & Learning Style
- Teaching Style / Homeschool Method
- Create a Budget
- Socialization
- Learning Space & Launch
You have a choice in the kind of educational experience that you want your child(ren) to have. Let me help you put the pieces together that will take you the rest of the way.