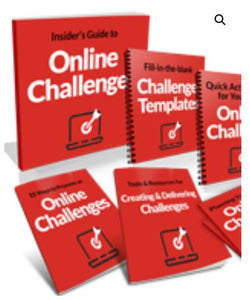 If you've been online for any length of time, you've probably seen ads promoting some type of challenge. Now you can LEARN THE SECRETS to hosting YOU OWN ONLINE CHALLENGES!
This ebook contains: 1 Insider Guide, 1 Quick Action Guide For Your First Challenge, 1 Planning Worksheet, 1 Challenge Outline, 1 Cheat Sheet, 1 Promotions Sheet and 1 Tool Sheet.
What is an online Challenge?
Challenges are exceedingly popular events used to get people excited and engaged for a set period of time. They usually have a set start and end date and include a series of short lessons and activities guided by videos, pre-written content, or live events.
Of course, there are the health and fitness challenges that have been around longer than the internet, but there are so many more challenge areas you can do. More recent topics we've seen crop up are meditation, blogging, branding and even journaling. As a marketer and business owner, creating your own challenge can be extremely rewarding.
They offer people participating a tangible, fun and motivating result, or reward for taking part.
The good thing is the types of topics that can be used for a challenge is unlimited. For example, week-long mediation challenges, a 30-day novel writing challenge, 7-day detox challenge or building your signature style challenges.
From the business owners' side, challenges are a terrific way to collect new leads, build your email list or upsell other products you have.
Full details are discussed in this eBook …