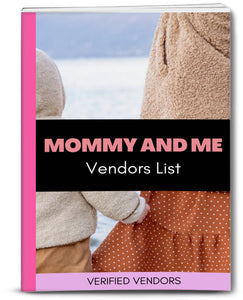 Are you looking for a business opportunity that is perfect for moms? Then look no further than the Mommy and Me Vendor List! This list provides you with a variety of vendors who sell products that are perfect for moms and kids. From clothes to toys to accessories, you will find everything you need to get started with your own Mommy and Me business.
The Mommy and Me Vendor List is a must-have for any mom who wants to start her own business. With a variety of vendors to choose from, you will be able to find the perfect products for your customers. Whether you are looking for clothes, toys, or accessories, you will be able to find what you need on this list. With verified vendors, you can be sure that you are getting high-quality products at the best prices.
Don't miss out on this incredible opportunity! Get access to the Mommy and Me Vendor List today and start your own mommy and me business today!