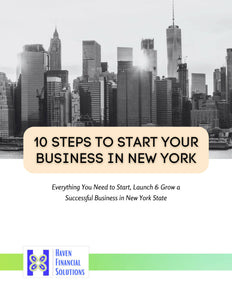 Avoid the costly mistakes that most new business owners make when starting out!
This eBook contains the 10 simple steps you need to follow in order to start your new business in New York and to be successful. It includes everything from setting business goals, doing market research, choosing a business structure and launching your business. It also offers some insights on how to get local and federal licenses, and all the other steps that could properly guide you to your success.
This is more than a beginner's guide to all the steps and resources that will help you get started faster and become more successful. It is both a guide and a workbook that includes live links and many valuable resources and business concepts such as:
Choosing a business idea and how to do market research

The fastest way to write an effective business plan

How to secure FREE money and microloans for your business

Business structure and LLCs

And much, much more!
This book is great for you if you're starting a business for the first time and you're overwhelmed by the process. But this book is even better for you if you've already been in business for a few years and are ready to find the right tools to help you grow to the next level! Order your copy now.